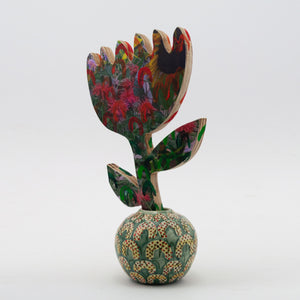 Artist: Mark Vander Heide
Title:
Holding on (for dear life to flowers)
Glazed porcelain, plywood, digitally collaged vinyl, acrylic paint
14.5" x 8" x 5"
ABOUT THE ARTIST
CCS Adjunct Faculty, Ceramics
Mark Vander Heide (b. 1990) grew up on the shores of Lake Michigan but currently resides in Detroit. He has formally studied Sociology (BA 2013, Calvin College) and Ceramics (MFA 2022, Cranbrook Academy of Art). He is currently adjunct faculty at College for Creative Studies and Wayne State University and is the Studio Manager for Ceramics at Cranbrook Academy of Art. When not teaching or in the studio, Mark enjoys baking, foraging for mushrooms, growing plants, petting cats, and taking naps.