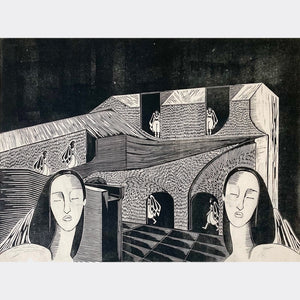 Artist: Livia Cocchi
Title: A Dream Within A Dream
Linocut print on Kozo paper
25" x 35"
LIVIA COCCHI (b. 1982) is a printmaker who works in Detroit, Michigan. Her projects use drawing, linocut, etching and monotypes to illustrate original mythos, feminist archetypes and perverse abstractions in hand-pulled editions and unique prints. Born in Naples, Italy, she began drawing at a young age and moved with her twin brother to Rome, studying architecture and theatrical arts before coming to the United States in 2016. Her recent artistic accomplishments include: Illustrations for the Posthuman Villa, a project done in collaboration with Mario Coppola at the Italian Pavilion in the Biennale of Architecture (2021) and creating the drawings for The Greatest Whole, a book by King Khan to be published by In the Red Records (2023) and based on a collaborative tarot deck of sexual illumination. Additional exhibitions of her work were shown at: the Dirty Show , Detroit (2022), Eat da Rich, Detroit (2022), the Venice Biennale (2021), Spread Art, Detroit (2019) and Grey Area, Detroit (2018).